Agency Spotlight – Children At Risk (CAR)
About Children at Risk (CAR)
Children at Risk is a charitable organization that works to provide services to families who have children diagnosed with Autism Spectrum Disorders. Children At Risk works towards three main goals. First, increasing public awareness about Autism Spectrum Disorders and providing support to families. They also focus on advocating for families at a municipal, provincial and national level. Finally, CAR seeks to create community relationships between families and different organizations, to provide more support to families with children with Autism Spectrum Disorders.  
Kids Up Front's Impact
Executive Director, Brenda Reisch comments on how much Children at Risk has benefitted from our partnership together and the affect it has on the families they serve; 
"Since January 2018, Children at Risk has received tickets to Hockey Games (both Ottawa Senators and Ottawa 67's), Concerts, Movies, Plays, Museum Passes with their weekly – and sometimes daily – offerings for our Families. It has been wonderful to receive emails and thank-you notes from so many happy Families – many who are attending some of these Venues for the 1st time. Children at Risk has over 400 Families registered who are raising a child with Autism.  Children with Autism have difficulty with social-learning opportunities that can be found with attending an event – but the high cost of treatments/therapies can make it financially impossible to consider a family outing.  Kids Up Front recognizes the value of "Smiles" – as this is the result of getting tickets to a Show, Sporting Event, Concert, Museum brings!  Hats Off to Kids Up Front Ottawa for those THOUSANDS of Smiles!"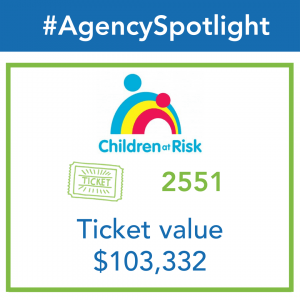 Since our initial partnership in June of 2018, Kids up Front have provided CAR with an incredible 2551 tickets to over 94 experiences. The total value of these tickets represents a donation of $103,332 in in-kind support. We're absolutely thrilled to be able to provide so many engaging experiences to Children at Risk.
Kids Up Front, with the support of TD Canada and their signature #Noteworthy program, we are able to send Kids to various concerts and entertainment shows throughout our city! Through TD's generous support, many Ottawa Kids are able to establish relationships between music and an art form that could inspire them. Children At Risk families were able to enjoy over 11 experiences with 105 tickets donated to various families through CAR. We sincerely appreciate all of their support in our program and cannot wait to provide more awesome experiences for Children At Risk families.  
Find out more about Children At Risk at the links below: