Agency Spotlight – Youth Services Bureau (YSB)
About Youth Services Bureau (YSB)
Youth Services Bureau has been serving at-risk youth and their families in the Ottawa area since 1960. Their support network comprises over 350 professionals in 20 locations across the city. YSB aspires is to provide "a safe, non-judgmental and accessible environment where individuals 12 years and older can pursue their life goals and be encouraged in making informed decisions."
Youth Services Bureau offers diverse programs for the youth they serve. These services include employment, health and housing, mental health, youth engagement and youth justice. Additionally, YSB provides bilingual services.
Each month, 2,500 to 3,000 youth approach YSB for help. These are youth facing mental health challenges, impending homelessness, unemployment and more. Through collaboration with other agencies, Youth Services Bureau can provide the best possible services to young people and their families.
Kids Up Front's Impact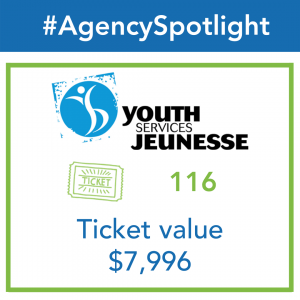 We first partnered with Youth Services Bureau in April of 2017. Since that time we have provided their youth, families, and their communities with 116 tickets worth $7, 796.  We have been able to offer YSB a number of sports tickets to the Ottawa Senators, Fury, and Redblacks.
In addition to these Ottawa favourites, we were able to offer a unique sports experience to Youth Services Bureau's clients. In July 2018, we distributed tickets to the FIBA World Cup of Basketball qualifiers in Ottawa. This was an incredibly unique opportunity to watch professional-level basketball in Ottawa, and an unforgettable experience.
Executive Director Patti Murphy had the following to say about YSB's partnership with Kids Up Front:
"KUF's continued support of YSB has provided meaningful evenings out for families in conflict or turmoil, and has also created first-time experiences for young people new to Canada. We see the tremendous value and intended efficacy of this program through the testimonials and thank you cards from our clients who express that these opportunities make them feel less isolated, more involved in their community, and valued as community members."
 We're proud to partner with Youth Services Bureau and look forward to supporting their incredible programming.
For more information about Youth Services Bureau, please visit: