Monthly Update – October 2019
October 2019 was a record setting month for Kids Up Front in Ottawa. We opened the month with back-to-back weekly records for ticket distributions. In addition to distributing a huge number of tickets, we were thrilled to offer a wide variety of opportunities. Here are some highlights from October 2019.
By the Numbers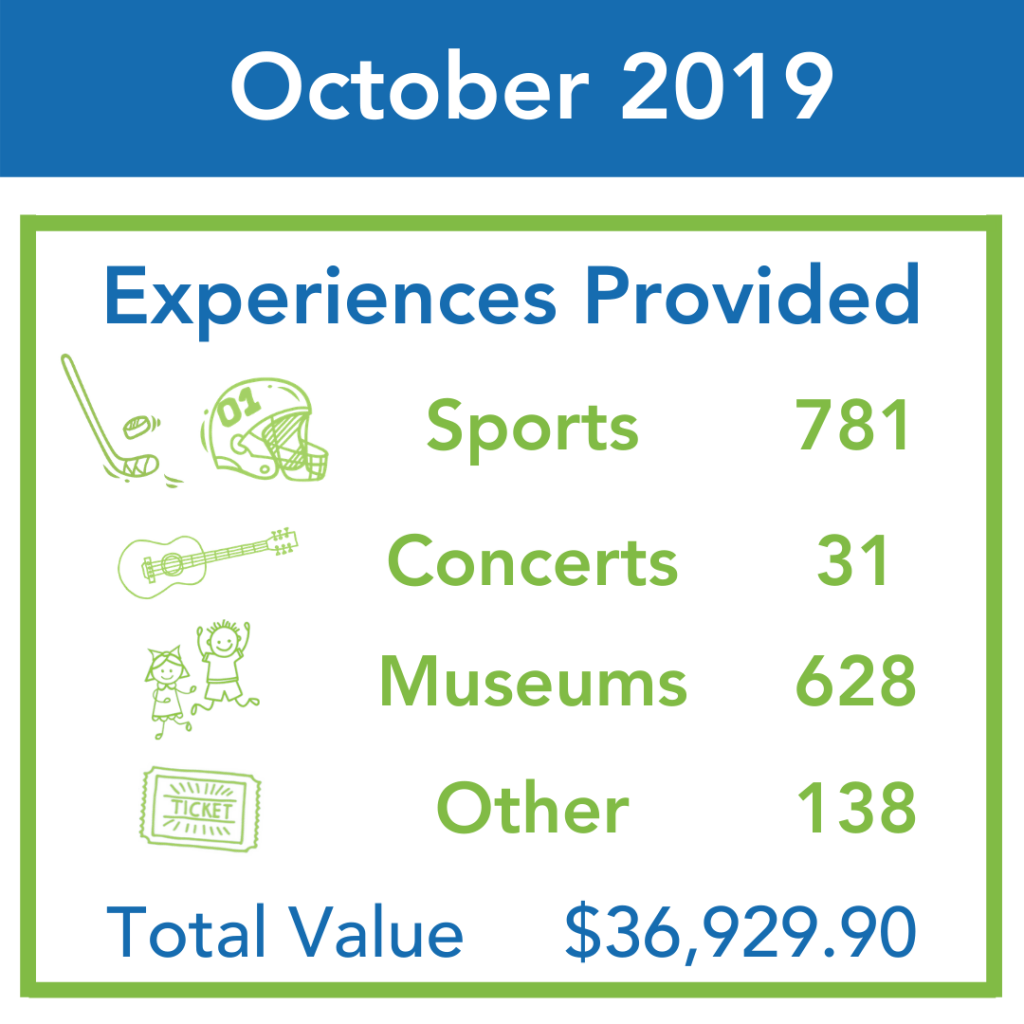 In October we were able to distribute a total of 1,578 tickets to deserving children, youth and their families. The experiences we provided for our partner agencies equal a cash value of $33,929. Tickets were distributed to 46 Partner Agencies.
Experiences Provided
A Conversation with Michelle Obama: On October 10th we were able to send over 130 children and youth to hear the former First Lady speak. All who attended had an unforgettable experience. What better way to spend a PD day off of school?
SensGiving Ottawa Senators Game: Our amazing founding partners at the Sens Foundation helped us get in the Thanksgiving spirit. On Monday October 14th, we filled over 250 seats as the Senators took on the Minnesota Wild. This game was the perfect way for our families to spend the holiday Monday together.
aBACHadabra: We're incredibly excited to have recently partnered with the National Arts Centre. As part of this partnership, we sent 31 children and their families to see aBACHadabra. This exciting theatre show highlighted the music of some of history's best-known composers.
Boeing Above and Beyond at the Canadian Aviation and Space Museum: Our great supporters at Ingenium Canada donated 300 passes to this super cool exhibit. Kids have been able to digitally design their own jet, experience flight as a bird and much more. A huge thanks to Ingenium for this incredibly popular donation!
These featured experiences represent just a portion of what we provided in October. We can't forget the Ottawa 67's games, Ottawa Fury games, and Ingenium family passes that we have distributed.
We would like to thank all our generous partners and donors. You empower us to distribute tickets to our partner organizations. We couldn't do this without you and truly appreciate your support.
Our November Wishlist
Want to help make November another incredible month? We're grateful for any donation of event tickets! In particular, we're looking for tickets for the following: