Monthly Update – December 2019
Holiday cheer was abound for Kids Up Front this December. We had another great month with lots of seasonal opportunities for our partner agencies. December concluded what was an exciting 2019 for us and has helped set the table for an even stronger 2020.
By the Numbers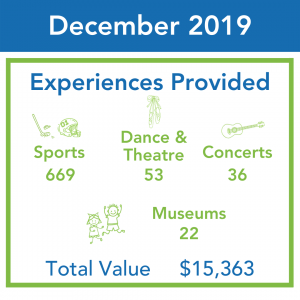 In December we were able to distribute a total of 780 tickets to deserving children, youth and their families. The experiences we provided for our partner agencies equal a cash value of $15,363. Tickets were distributed to 39 individual partnering agencies.
Experiences Provided
 The Nutcracker(s): We were delighted to receive tickets to not one but two productions of The Nutcracker. The Nutcracker: A Canadian Tradition presented at the Shenkman Arts Centre offers a unique, Northern take on the holiday classic as Klara arrives in Canada. Through her journey she experiences winter landscapes filled with snowflakes, lumberjacks, Mounties, and creatures of the woods.
We also received tickets to Linda Jamieson School of Dance's production of The Nutcracker at the Algonquin Commons Theatre. We're thankful for our community supporters who allowed our partners to share in this iconic holiday tradition.
A Not So Silent Night:  The festivities continued in December, with tickets to Vocestra's "A Not so Silent Night." This evening of traditional, and not-so-traditional, holiday favourites filled our ticket recipients with cheer. Thanks to Vocestra for their generous support.
NAC French Threatre: This December we were excited to continue our partnership with the National Arts Centre. We received tickets to Le problème avec le rose, an engaging combination of text and dance. Our recipients loved this dynamic, francophone production.
Benefit Hockey NHL Alumni Game: Our partner agencies were able to see NHL greats of yesterday at the NHL Alumni Game. This awesome community initiative raises money for Special Olympics Ontario and the Law Enforcement Torch Run.
These opportunities are but a small selection of our programming this month. We also provided tickets to hockey games, museums and concerts. We look forward to continuing to expand our offerings in 2020.
If you would like to help provide experiences like the ones outlined here, please donate today.