Agency Spotlight – Thinking In Pictures Educational Services (TIPES)
About TIPES
Thinking In Pictures Educational Services (TIPES) works to support children, teens and young adults with Autism Spectrum Disorders and/or related exceptionalities. Their team of trained professional offers services to support these clients and their families using a holistic approach, in a safe environment.
Born out of a desire to be of service to others, TIPES was founded in 2007. Starting from a staff of 2 passionate co-founders, the organization has grown to a team of over 50. Since 2007, the team have serviced over 1,000 families in Ontario.
In 2014, the operation expanded once again. Realizing the need to help adults with Autism Spectrum Disorders, TIPES began to offer adult services. They now operate over a dozen programs including Applied Behavioural Analysis therapies, counseling services, life skills and social integration.
Kids Up Front's Impact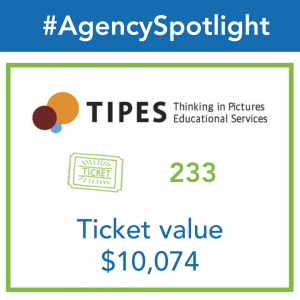 Kids Up Front partnered with TIPES in March 2018. Since then, we have provided their program with 233 tickets. These tickets represent a financial value of $10,074.
We've been happy to offer TIPES participants access to diverse opportunities, helping to create and reinforce positive social connections. These opportunities have included concerts at the National Arts Centre, museum exhibits, the Blue Man Group and recreation opportunities.
We're proud to partner with TIPES and look forward to continuing to support their program.
For more information, please visit: