Monthly Update – January 2020
Talk about ringing in the new year! Our New Year's resolution is to provide even more experiences to deserving kids in Ottawa. We were happy to start off on the right foot, with a great month of ticket opportunities. Here are some of the highlights.
By the Numbers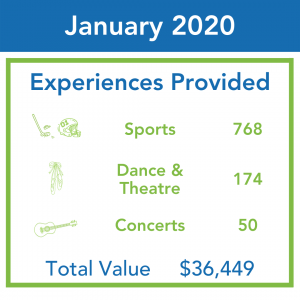 In January we distributed a total of 992 tickets to deserving children, youth and their families. The experiences we provided for our partner agencies equal a cash value of over $36,449. Tickets were distributed to 46 unique partnering agencies.
Experiences Provided
Ottawa Senators with Fully Managed: What a way to kick off the new year! On January 4th, Fully Managed invited us and 200 members of our program to watch the Senators take on the Tampa Bay Lightning. The Sens may not have won, but the fans did, being treated to an electrifying game and atmosphere.
The Neverending Story:  On January 29th and 30th, ticket recipients were able to preview a truly magical performance. Audiences at the National Arts Centre were treated to this enchanting adaptation of the classic production.
Concerts, theatre, and dance at the NAC: Our ticket recipients have enjoyed their visits to the National Arts Centre, experiencing diverse programming. Opportunities this January include Unikkaaqtuat, 80's Mixtape with the NAC Orchestra, 2020 Chinese New Year Concert, The Royal Winnipeg Ballet and The Jim Cuddy Band.
The Little Mermaid: On January 31st, ticket recipients were able to experience the magic of this Disney classic. Thanks to the generous support of Ain't Seen Nothin' Yet Productions, deserving kids took a trip Under The Sea to witness this iconic story.
We're delighted to be a part of the Ottawa community and remain grateful for the tremendous support we are shown.
Our February Wishlist
If you want to help provide experiences like those listed above, please donate your tickets to Kids Up Front. We are grateful for all ticket donations. In particular, we are asking for donations to:
Capital Hoops (February 7)
Ottawa Senators home games
Mary Poppins in Concert (February 20-22)