Agency Spotlight – Ottawa Carleton District School Board (OCDSB)
About Ottawa Carleton District School Board (OCDSB)
The Ottawa Carleton District School Board is Eastern Ontario's largest school board. Serving all 2,760 square kilometers of the City of Ottawa the board operates 143 schools in total. There are currently over 70,000 students in the school board.
The OCDSB strives to create a culture of innovation, caring and social responsibility. This strategic plan, adopted in 2019, is designed to develop students' characteristics and skills to translate to success in the modern world.
Also key to the OCDSB's plan is ensuring that schools are welcoming places where students feel they belong. They strive to build a culture that supports and engages students, staff members and their broader communities.
Kids Up Front's Impact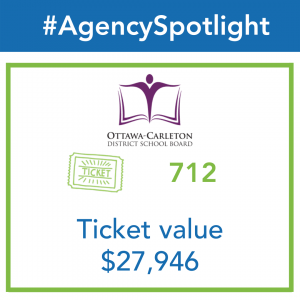 We partnered with the Ottawa Carleton District School Board in November 2018. Since then, we've expanded our reach, partnering with 19 individual schools. Our program has offered those schools a total of 712 tickets worth $27,946.
We're delighted to work with schools from across Ottawa, including communities in Kanata, Alta Vista, Gloucester and beyond!
We're also thrilled to offer diverse programming to match the diverse range of interests among OCDSB students. In February, we sent 9 music and drama students to a VIP meet and greet with the cast of We Will Rock You. Of course, they were also able to watch the performance from their front row seats.
In February, we also offered one OCDSB student a chance to attend the Ottawa Humane Society's Youth Apprenticeship Program. This student was able to gain hands-on experience in the shelter and further explore a potential career path.
In addition to these unique experiences we love offering tickets to local sports matches, theatre performances, concerts and other events. We strongly believe that our offerings must match the diverse interests of Ottawa students.
For more information about the Ottawa Carleton District School Board, please visit: